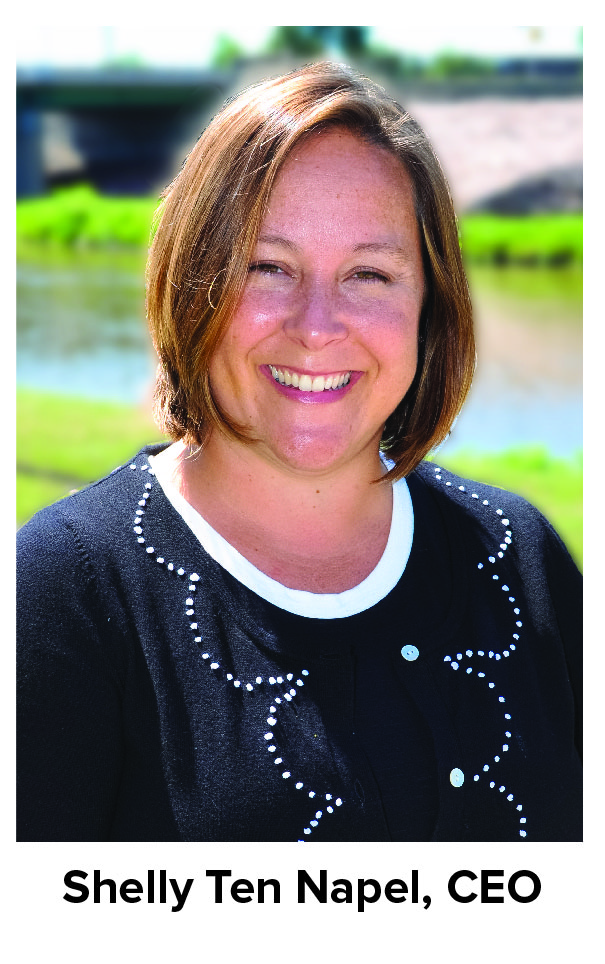 As we approach colder weather, leaves turning colors, family around bonfires, and warm thoughts, many worry about the "perfect storm" that is coming. The collision of COVID-19 and influenza could lead to the nation's hospitals being stretched to capacity, as both flu patients and those affected with COVID-19 are seeking care. Due to the "perfect storm
,
" the flu vaccination is more important than ever. With flu season coming, providers and public health officials are urging everyone to get vaccinated for the flu. The flu vaccine does work; it prevents hospitalizations, mortality, and reduces the length of symptoms. If there is ever a year that you need to get vaccinated, this is the year. You and your family need every protection they can to fight off the risk of getting two very serious respiratory illnesses at the same time. 
Many health care organizations and public health departments are ramping up awareness for the upcoming flu vaccine. 
CHAD has released an updated flu shot social media campaign with the theme #DefendtheDakotas for health centers. Messages focus on protecting patients and their families, the importance of influenza vaccines for pregnant people, and protecting the workforce, including critical infrastructure workers. These resources are customizable by health centers for Facebook and Twitter. A link to materials has been sent to members of the CHAD marketing network team. The South Dakota Department of Health is asking the public to use #vax4love. 
Who needs to be vaccinated? You. Health centers are here to help!
Shelly Ten Napel spoke with
Public News Service
about COVID-19 emerging trends and the importance of looking at rolling averages per population.
CHAD staff joined Northland Health Centers at their COVID-19 mass testing event in early September.
Coal County Community Health Center served over 100 ice cream treats and gave out 60 backpacks filled with information regarding behavioral health and community resources to celebrate National Recovery Month.

Top Counties and Trends in the Dakotas
As of Wednesday, September 16, North Dakota and South Dakota are ranked numbers 1 and 2 in total new cases per population over the last seven days, according to the
New York Times COVID-19 database
. In North Dakota, health centers have been ramping up local testing events in collaboration with the North Dakota Department of Health. We also see a growing impact on health center staff, with some health centers having staff unable to work due to exposures or close contacts.
The emerging hot spots in the two states with the most cases in the last seven days per population are:
In South Dakota, the
positivity rate
over the last 14 days is 11.4%, and while trending downward, it is still concerning. South Dakota's cumulative positivity rate throughout the pandemic has been 8.5%. In North Dakota, the 14-day
rolling
average positivity rate
is 5.8%. North Dakota's positivity rate has been climbing since late June when it was less than one percent. When positivity rate is considered alongside per population new cases, we can surmise that South Dakota probably currently has more cases per population than North Dakota even though South Dakota's confirmed positives are slightly lower.
Understanding COVID-19 Data, Terms, and Definitions
Social distance, quarantine, shelter in place, positivity rate, trends, hot spots: the coronavirus vocabulary expands every day. Between Departments of Health, the Centers for Disease Control and Prevention (CDC), and Johns Hopkins, there are so many places offering information; where does one find accurate data to navigate these unprecedented times? Data can be confusing, but data can also tell a story. This article aims to break down data terms and help guide readers to trusted sources for understanding what is happening with COVID-19 in local communities.
New cases today:
This is the number of positive cases that were reported today. This can mean that the person being tested is newly infected, or they are still infected and need a negative test to go back to school or work.
Active cases
:

Total number of active cases.
Total number of persons tested
:

This number is very important. Look to see if this term is describing the total number of persons tested that day, or overall. The total number of persons tested DAILY has an impact on trends, hot spots, positivity rate, etc.
Positivity rate
:

This rate is equal to the number of positive tests divided by the total tests, within a specified period of time.
Current guidance says the positivity rate should be under 10%.

The positivity rate tells a story about overall testing.

If the transmission of COVID-19 is decreasing, and more people are being tested, including those who are not infected, the positivity rate should fall. A rising positivity rate suggests that an insufficient portion of the population is being tested and/or that actual cases are increasing, and likely increasing at a faster rate.

If a state does not test as many people, the positive tests might look lower, but the percent positivity will be higher.

A state that is testing a large number of people may have more official COVID-19 cases, but the positivity percent will likely be lower.
Trends
:

Trends look at data over a period of time. In the case of COVID-19, the last seven days and the last 14 days can help predict where a community is headed and if something in the community, such as an event, happened within the last two weeks that is causing an increase in positive patients.
Hot Spot
:

This term is used when examining current trend data and usually is looking at two specific measures:
COVID-19 cases: Percent change in reported daily cases over the past 14 days; and,

Positivity rate: Percent change in share of COVID-19 tests with positive results over the past 14 days or positivity rate of 10% or greater.
Seven or fourteen day averages
:

We typically use a rolling average of cases over the previous 7 or 14 days to account for the fact that more results may come in on a given day due to when tests are run or when residents get tested.
Lastly, when trying to understand a community, it is important to look at hospitalizations and the available capacity of beds and ventilators. When looking at this data, communities will be able to tell if the health care system can handle a potential outbreak. It is important to note that hospitalizations can often be a "lagging indicator," meaning that you would expect to see hospitalizations rise a few weeks after cases rise.
Here are some trusted websites that show data, trends, hospitalization rates, hot spots, etc.
CHC Inc. and Weitzman Institute Launch Readiness to Train Assessment Tool (RTAT™)
Community Health Center, Inc. (CHC Inc.), in collaboration with state and regional primary care associations, announces the launch of the Readiness to Train Assessment Tool (RTAT™), developed to assess organizational readiness to implement health professions training (HPT) programs in health centers across the country.
CHC Inc. and Weitzman Institute are inviting health centers, including those with existing HPT programs or those interested in launching HPT programs, to join a webinar on September 23 at 1:00 pm – 2:30 pm MT/ 2:00 pm - 3:30 pm CT to learn more about this Bureau of Health Workforce/Bureau of Primary Health Care (BPHC) strategic workforce initiative. During this webinar, CHC Inc. will introduce health centers to the RTAT™ instrument developed and validated by the national technical and training assistance Partners (NTTAP). This will include a call to action for all health centers to complete the RTAT™.
This tool covers dimensions of health center readiness for developing and engaging with HPT programs. Participants will leave the webinar equipped with knowledge on its usability and an understanding of how health centers can use it to identify barriers in advancing HPT programs. Register
here
.
Legal and Legislative Updates Related to 340B
There have been several developments regarding 340B in recent months. Several changes have come from drug manufacturers and an executive order (EO) from the president. The National Association of Community Health Centers (NACHC) has been closely following the developments and released a
340b toolkit
to outline their strategy for tracking the issue.

The NACHC board of directors met last week and approved several courses of action to address what they have identified as five threats to the program. The first threat is through the EO issued by President Trump in late July of this year. The second is the burdensome Medicare claims data requests that have been placed on health centers by drug manufacturers. The third is the refusal to ship 340B priced drugs to contract pharmacies. The fourth is the move from discounts on the 340B drugs to rebates. This creates concerns for health centers related to cashflow. The final threat is the fundamental issue with 340B through discriminatory contracting. The NACHC board of directors is moving forward with legal and legislative action.
Legal Action
There are several pending pieces of legal action regarding 340B. 340B providers are prohibited from suing drug manufacturers directly over violations. However, the National Association of Community Health Centers (NACHC) board of directors voted to approve pursuing a lawsuit against the Health Resources and Services Administration (HRSA) for their failure to penalize drug manufacturers who refused to ship 340B-priced drugs to contract pharmacies. Two other national groups intend to file suit on this issue as well. NACHC is filing separately because of the unique status with the authorizing statute for community health centers, Section 330, that states that health centers may provide services via contract. Legal firm Feldesman Tucker Leifer Fidell has begun working on the case.
Legislative Action
Last week, the National Association of Community Health Centers (NACHC) board of directors also approved a resolution to prioritize changes to the 340B statute. The legislation would make many critical improvements to the 340B statute to preserve the integrity of the contract pharmacy model. According to the resolution, "These actions are intended to ensure that the benefit of 340B savings accrues to medically underserved patients and the health centers who serve them, as Congress intended."
CARES Act Funding in South Dakota
The South Dakota Legislature is hosting a series of field hearings to gather feedback on the use of CARES Act Funding. As part of this $2.2 trillion-dollar COVID-19 relief package, South Dakota received $1.25 billion from the federal CARES Act, and much of that money is unspent. The joint health and human services (HHS) committee will meet on September 22, from 8:00 am – 12:00 pm CDT, to gather feedback on how that money should be spent. They are also interested in hearing how the health care community responded to the pandemic and what resources are still needed. The meeting agenda can be found
here
. Join the meeting virtually by visiting the
South Dakota Legislature webpage
.
CHAD is submitting comments to the committee with the following recommendations:
Invest in state-funded COVID-19 testing;

Engage health care partners who are experienced in the promotion and distribution of vaccines in the planning process and provide resources for the COVID-19 vaccine rollout; and,

Ensure that the proposed

small business grants

($200 to $400 million) are open to non-profits.
High-level details on the proposed Small Business Grant program can be found
here
. A few details of the proposed program include:
Grant

s up to $100,000 will be available.

The applicant must have seen a reduction in revenue of at least 25 percent.

Applications are due between October 12 and October 23.

Once all applications are received, the amounts awarded will be prorated based on the total amount of funds requested divided by the total amount available.
South Dakota Medicaid Updated COVID-19 FAQs
South Dakota Medicaid continues to evaluate and add flexibilities to the Medicaid program to allow providers to address the COVID-19 public health emergency (PHE) and meet the needs of Medicaid recipients. Many of these changes can be found in the
COVID-19 Provider Bulletin
published by SD Medicaid.
The most recent updates include:
SD Medicaid covers testing for COVID-19 with no cost-sharing requirements.

Providers must use diagnosis code U07.1 (COVID-19) on all claims submitted for the treatment of COVID-19. The Centers for Disease Control and Prevention (CDC) has released detailed coding information for COVID-19 in the

 

ICD-10 Official Coding and Reporting Guidelines

valid through September 30.

IHS and Tribal 638 providers are temporarily allowed to be reimbursed at the encounter rate for offsite COVID-19 testing services. Centers for Medicare and Medicaid Services (CMS) is temporarily allowing this flexibility until January 30, 2021. CPT code 99212 should be listed on the claim for specimen collection.

IHS and Tribal 638 providers are temporarily allowed to be reimbursed at the encounter rate for telemedicine services when neither the practitioner nor the recipient is located in the clinic at the time of the service. CMS is temporarily allowing this flexibility until January 30, 2021. Telemedicine services must be provided per the

telemedicine

manual.
And finally, CMS has released several new inpatient procedure codes to track the treatment of COVID-19 better. SD Medicaid will accept these codes, effective August 1. A detailed list of these codes can also be found in the
COVID-19 Provider Bulletin
.
North Dakota Department of Health Changes COVID-19 Positivity Rate Calculation
The North Dakota Department of Health (NDDOH) is changing how it reports the COVID-19 daily positivity rate. As reported by
KFYR-TY
, "The equation was previously using total tests as the denominator, but now they're counting only 'susceptible test encounters,' or unique individuals susceptible to the virus. The new equation will exclude people who were tested multiple times or who had previously tested positive."

The NDDOH says that the change in the calculation will make the daily positivity rate more accurate. Watch a video explaining the changes
here
.
Registration Available for 2020 Immunize South Dakota Virtual Conference – September 23
2020 has been a significant year for spotlighting the importance of immunizations, from the South Dakota legislative session to the race for a COVID-19 vaccine. Join other health care professionals as we hear a state epidemiology update and discuss the state's approach to House Bill 1235, "An act to revise provisions regarding immunizations."
This virtual conference is intended to promote immunizations throughout South Dakota by supporting health care providers through education and community outreach resources. Sessions will address vaccine advocacy, influencing and educating policymakers, the status of a COVID-19 vaccine, and motivational action planning (MAP).
Click
here
to view the agenda. Click
here
to register. The early bird discount ends September 4.
Patients First: SDOH and PRAPARE Webinar Series Kicks Off October 1
The Protocol for Responding to and Assessing Patients' Assets, Risks, and Experiences (PRAPARE) is a national effort to enable health centers to collect the data needed to better understand and act on their patients' social determinants of health (SDOH), transform care delivery, improve health outcomes, and reduce healthcare costs. As the most widely used social risk screening tool among health centers, PRAPARE outlines critical domains that impact individuals' risk of morbidity and mortality, especially during the COVID-19 pandemic. In this kickoff training,
presented by the Association of Asian Pacific Community Health Organizations (AAPCHO), participants will receive an orientation to the PRAPARE Academy and readiness assessments. The speakers will share tips, tools, and tricks for beginning and sustaining data collection on SDOH.
This program is intended for health center care teams from both clinical and non-clinical perspectives, especially those staff investing time and resources on SDOH screening. Leadership and management are encouraged to attend and gain a better understanding of why a multidisciplinary care team approach is necessary to implement a successful and sustainable social risk screening protocol across the health center.
Click
here
to register for the kickoff training.
Click
here
to register for the entire learning collaborative series.
Click
here
for detailed information on each session.
CHAMPS/ NWRPCA Virtual Primary Care Conference October 19-22
Submitted by CHAMPS
The Community
Health Association of Mountain/Plains States (CHAMPS) and the Northwest Regional Primary Care Association (NWRPCA) virtual primary care conference, Leading in a New Landscape, will take place October 19-22, and registration is now open! This year's theme reflects the extraordinary times we are all facing and the exceptional and inspiring leadership of Region VIII community health centers. Participants will have the opportunity to attend an opening plenary featuring Health Resources and Services Administration's (HRSA) Jim Macrae and Dr. Luis Padilla, special sessions about the upcoming election and 340B, 30 educational sessions, roundtable peer-networking sessions, and more.
For more information and to register, click
here
.
To view the draft agenda and session information, click
here
.
New State Health Care Scorecard: Troubling Signs Even Before COVID-19
Even before COVID-19 hit, there were worrying signs on the horizon for health care in the United States. The Commonwealth Fund's latest Scorecard on State Health System Performance identifies a range of problems likely made worse by the pandemic. In assessing health care in every state and the District of Columbia on 49 measures, the new report finds that:
Americans are living shorter lives than they did in 2014, and Black Americans are nearly twice as likely as whites to die from treatable conditions.

Health coverage gains have stalled, while the affordability of insurance and out-of-pocket costs have worsened.

Public health dollars are being stretched thin at a time when states face unprecedented challenges from COVID-19.

Visit the

scorecard

to learn more about these trends and others and find out how North Dakota and South Dakota rate compared to the rest of the nation.
HRSA to Extend Virtual Operational Site Visits through December
In response to the COVID-19 public health emergency, the Health Resources and Services Administration (HRSA) has suspended in‐person site visits, including operational site visits (OSVs), through December 31. For the remainder of 2020, HRSA will conduct OSVs virtually, which has been extended from the previously stated end-date of September 30. These virtual visits will take the place of health centers' previously scheduled on-site OSVs. Most aspects of the virtual OSV will be the same, but secure file sharing and video conferencing technology will allow for remote access to documents and participants. Health centers due for a site visit will be contacted by HRSA to schedule and discuss the logistics of a virtual visit.
National Farmer Safety and Health Week: Every Farmer Counts
Life is not always easy for farmers. Weather occurrences, trade concerns, constant financial worries and responsibilities, and other factors can lead to enormous stress that can be devastating. This year, COVID-19 has added the extra burden of trying to reduce the risk of transmission as farmworkers often work in close proximity and share transportation. These issues and many others can have an impact on the mental health of agricultural workers. This population already faces disparities in mental health services due to accessibility, availability, and even acceptability, as some farmworkers may have a self-stigma surrounding their mental health.
September 20 – 25 is National Farmer Safety and Health Week, and there are several resources and training materials available to help health centers improve their services to farmers. Community health centers in North Dakota and South Dakota served over 2000 agricultural workers and their families in 2019. Behavioral health services allow for the opportunity to screen and provide services to agricultural workers struggling with mental health and substance use or alcohol-related disorders.
According to the
Centers for Disease Control and Prevention
, opioid painkillers are prescribed for about 20% of farmers and farm workers who are injured and unable to work. About 75% of farmers reported being directly affected by opioid misuse, addiction, or overdose either themselves, within their family, or among the community population. Almost 77% said they could easily access opioids without a prescription. In addition, alcohol abuse and binge drinking continue to be a problem.
The AgriSafe Learning Lab is offering free trainings every day next week that will address the mental and physical well-being of agricultural workers and their families. Click
here
for a complete list of training topics.
Defend the Dakotas
Flu Vaccine Social Media Materials Available
CHAD has released an updated flu shot social media campaign with the theme #DefendtheDakotas for use by health centers. Messages focus on protecting patients and their families, the importance of influenza vaccines for pregnant people, and protecting the workforce, including critical infrastructure workers. These resources are customizable by health centers for Facebook and Twitter. A link to materials has been sent to members of the CHAD marketing network team. Contact
Kayla Hanson
for access.

 
South Dakota Department of Health COVID-19 Update
The South Dakota Department of Health hosts a weekly COVID-19 webinar for health care facilities, medical providers, laboratorians, long-term care facilities, EMS providers, and other health professionals.

Thursdays in September (reoccurring)
10:00 am MT/ 11:00 am CT
For weekly call-in information, please join the listserv
here
. Find archived calls and slides
here
.
Health Center Leadership: A Webinar Series from NACHC and SkillPath
Register now for one or more sessions in the series!
Today's health centers need leaders who can handle any situation that comes their way. The ability to influence, communicate, and make thoughtful, effective decisions while supporting their teams are key attributes every leader must possess. New managers and supervisors face a difficult challenge in learning to do all this while managing a new workload and focusing on the health centers' most precious resource—people.
The remainder of this four-part webinar series provides the essential skills and tools needed to be an effective leader and not just "the boss." Participants will learn how to motivate employees and how to manage relationships. They will also learn the keys to effective communication, become a listening leader, and how to develop a culture ripe for curiosity and innovation.
Session 3:

Excelling in Your Role as a Health Center Leader: Leading Curiosity, Creativity, and Innovation
In this session, participants will discover ways to encourage curiosity, creativity and innovation, and discuss how culture affects the engagement, creativity and innovation of teams.
Session 4:

Excelling in Your Role as a Health Center Leader: Applying Workplace Emotional Intelligence Tools
This session will help participants develop their capacity to understand and manage emotions, the impact of emotional intelligence on team dynamics, and how to create an atmosphere to motivate employees and create a happier workplace.
UDS Mapper Webinars
The UDS Mapper is a collaboration between the Health Resources and Services Administration (HRSA) and the American Academy of Family Physicians (AAFP) and is part of the HealthLandscape online mapping platform. These webinars are open to the public and free of charge.
UDS Mapper Special Topics: Food Insecurity and Opportunities for Health Centers
This special topic webinar will focus on examining the relationship between health center service areas and food insecurity. During this session, speakers will highlight how to use the UDS Mapper, including a new functionality allowing users to add area-level data to analyze food insecurity in a community. The webinar is geared toward users who are familiar with the UDS Mapper.
CCHN/CHAMPS Health Equity Learning Series
Submitted by CHAMPS
The four-part 2020 Health Equity Learning Series hosted by the Colorado Community Health Network (CCHN)/

Community

Health Association of Mountain/Plains States (

CHAMPS) is designed to introduce all levels of staff to the community health center movement's position and continued efforts in the journey towards a more equitable and just health system. Participants will come away from the series with a greater understanding of organizational and personal positions in this work and a few strategies to assist in moving the work forward. This series is free for all Region VIII health centers,

and recordings of each session will be available for at least one year

.

To access the first two session recordings, click
here
.
Tuesdays, September 22 and October 13
12:00-1:15 pm MT/ 1:00-2:15 pm CT
For more information and to register, click
here
.
Moving from What and Why to How: Lessons on Addressing the Social Determinants of Health

The former President for the National Association of Chronic Disease Directors (NACDD), Gabriel Kaplan, will discuss how the field of public health moves from the understanding of WHAT the social determinants of health are and WHY they are important - to HOW we can address them effectively. Dr. Kaplan will discuss public health tools to analyze how the root causes of disease and health inequity operate to identify effective strategies to address them. Based on research and stories collected during his work as NACDD President, Dr. Kaplan will outline steps public health can take to address upstream determinants of health and act on the vision of Public Health 3.0.
Thursday, September 24
11:00 am MT/ 12:00 pm CT
Register
here
.
CHAD Network Team Meetings
Friday, September 18 at 11:00 am MT/ 12:00 pm CT

– Behavioral Health Work Group
Tuesday, September 22 at 11:00 am MT/ 12:00 pm CT

– Great Plains Health Data Network Leadership
Tuesday, September 29 at 12:00 pm MT/ 1:00 pm CT

– O & E Network Team