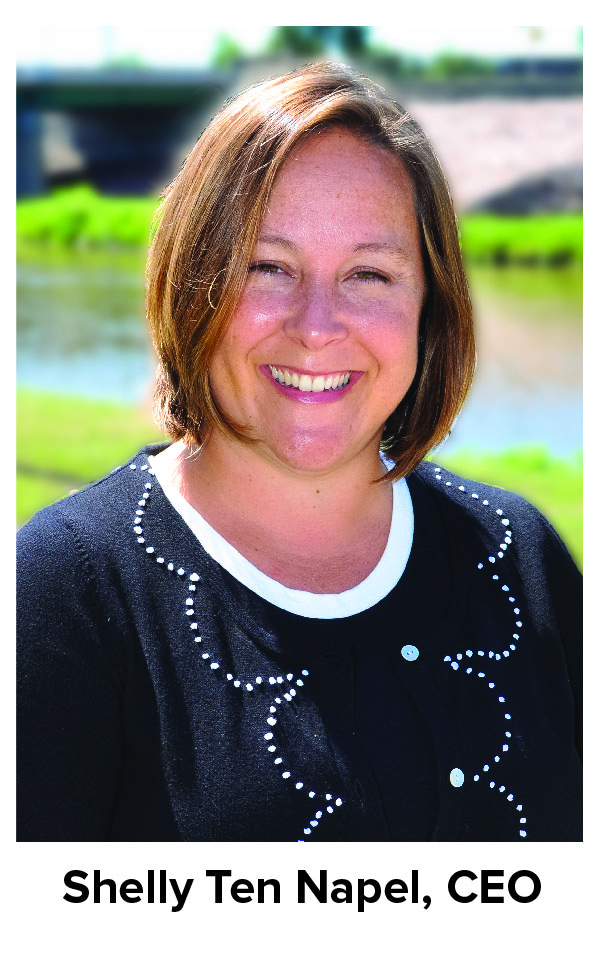 This is a big week at CHAD because our own Melissa Craig is celebrating her 20th anniversary on staff at CHAD and as a part of the health center community in the Dakotas. Melissa is our data manager and Uniform Data System (UDS) expert. She has taught me everything I know about the intricacies of UDS, and she keeps us honest on all things data-related. She is our internal historian, and through her files that go way back and through her ability with numbers, she helps us tell our story.
Melissa is a joy to have as a part of the CHAD team. She is willing to pitch in on any project, and she brings incredible skill and attention to detail to everything she does. She currently leads our effort each year to produce an extensive data book that helps health centers understand their own data compared to state and national benchmarks. (For a copy of the CHAD databook, email
dani@communityhealthcare.net
.) She has helped us develop internal data systems that enable us to track our training and technical assistance work with health centers to improve our grant reporting and the information we are able to share with our Board. She also helped us develop the economic impact
report
that shows the contribution health centers make to state and local economies.
Melissa is a great resource for health centers. She has facilitated UDS training for many years, and she is an expert on the UDS Mapper. Many quality improvement staff know her through her work, supporting the data collection aspect of the ECQIP program. Through that work, she has helped us understand the impact of our quality improvement efforts on patient care and health outcomes.
Melissa and her husband live in Bismarck with their two sons. You can also find her throwing parties for kids throughout the Bismarck area or on the national archery circuit with her family. Notes of congratulations can be sent to
Melissa@communityhealthcare.net
.
CHAD will be publishing weekly data representing the number of positive COVID-19 tests for the current week as compared to the previous week, the cumulative number of cases diagnosed, current and cumulative hospitalizations, the percent of health center visits compared to the determined baseline, and the percent of visits that are being done virtually. This data will be compiled for North Dakota and South Dakota each week. This week's data covers the week beginning Thursday, July 2 to Wednesday, July 8.
The staff at Coal County Community Health - Killdeer rode in the 2020 Killdeer, ND 4th of July parade.
Jessica Gilbertson Chosen for Families USA Health Equity Academy in System Transformation Fellowship Program
Congratulations to CHAD's policy and partnership manager, Jessica Gilbertson, who was chosen as part of the Families USA Health Equity Academy in System Transformation fellowship program. The fellowship trains a corps of health equity advocates to participate in discussions and decisions about how health care is organized, delivered, and paid for – and to push, especially for Medicaid reforms that address inequities. This year's program will focus on three issues of particular importance during the COVID-19 pandemic: 

measuring health inequities and requiring improvement;
using a community-based workforce; and,
enhancing supportive services for elders and people with disabilities.

Leaders from advocacy and non-profit organizations serving communities of color and other marginalized communities from across the country were chosen to participate in a virtual training in July and receive ongoing learning opportunities, strategic guidance, and technical support. Participants will gain formidable subject matter and advocacy skills to help them become influential advocates for transforming our health care system to serve health equity at the local, state, and national levels
There are currently several pieces of legislation being considered by Congress that address telehealth issues. The three main changes that would help health centers are: to be able to bill as distant sites under Medicare for telehealth visits; to continue to allow telehealth reimbursement for visits with patients who are at home; and to remove geographic restrictions on telehealth sites. Telehealth visits should be reimbursed at the same Prospective Payment System (PPS) rate as in-person visits. The provisions in each of the bills that would be most beneficial to CHCs are:
S. 2741 – The CONNECT for Health Act

would allow CHCs to bill as distant sites at the PPS rate.

H.R. 7187 - The Helping Ensure Access to Local Telehealth (HEALTH) Act

- This legislation would permanently allow CHCs the ability to provide telehealth services in Medicare as distant sites and be paid equal to an otherwise in-person visit. The bill makes permanent the waivers contained in the CARES Act that remove the geographic restrictions related to originating sites. This bill would also make the reimbursement rate retroactive to the date the emergency began, not the date of enactment. A letter went to Senate leadership encouraging the Senate to adopt changes similar to these.

S. 3998 – The Improving Telehealth for Underserved Communities Act of 2020

would reimburse CHCs at the PPS rate for the duration of the emergency.
CHAD is advocating for these changes. A sample letter to your Member of Congress can be found here. Next week, we will be sending an update via email asking for CHC advocates to send a note to their Members of Congress asking for their support for adequate and ongoing telehealth reimbursement for CHCs. Please feel free to send your own letters and emails, or you can respond right in the email that we will send to you. Please let
Jessica Gilbertson
know if you have any questions.
NACHC Sends letter to Secretary Azar – Extending Public Health Emergency
Early on June 30, a Department of Health and Human Services spokesperson announced that the department intends to extend the current Public Health Emergency (PHE) related to COVID-19. The current PHE is scheduled to expire on July 25; the extension will likely be for an additional 90 days, ending around Oct. 22.
In a letter to HHS Secretary Alex Azar
, National Association of Community Health Centers (NACHC) President and CEO Tom Van Coverden underscored the critical importance of the extension.
Markup of House FY 2021 Labor HHS Appropriations
Earlier this week, the House Labor-HHS Subcommittee completed a markup of FY 2021 appropriations legislation. This bill now includes $7.2 billion for the Health Resources and Services Administration (HRSA), an increase of $157 million above the 2020 enacted level, and $905 million above the budget request.
The HRSA allocation includes $1.65 billion for the Health Centers Program, an increase of $25 million from the FY 2020 enacted level, and includes $10 million to support school-based health centers. It also allocates $1.2 billion for HRSA's Bureau of Health Professions programs to support the medical workforce, an increase of $48 million from FY 2020.
North Dakota Medicaid Updates
Provider Newsletter
The latest edition of the North Dakota Medicaid Provider Newsletter can be found
here
. This edition includes COVID-19 pandemic online resources, Medicaid 1915(i) to expand home and community-based behavioral health services, online monthly Medicaid claims payment information, understanding denial and adjustment reason codes, other claims-related information, and new members of the Medicaid Medical Advisory Committee.
Fee Schedule Update
Starting on July 1, 2020, provider rates will receive a 2.5% inflationary increase for the second year of the biennium in accordance with legislative mandate. You can find the updated fee schedules
here
.
North Dakota Dental Manual
The North Dakota Dental Manual has been updated to include clarifying language in the orthodontic section. This update also includes codes and descriptions that Medicaid had been covering, but had not yet published. Find the updated manual
here
.
Medicaid Manual
The General Information Manual was updated on July 1, 2020, including the section on Federally Qualified Health Centers (FQHCs). Find the updates
here
. The terms for FQHCs start on page 46 of the manual.
Funds Available to Increase Adult Influenza Vaccination Rates in North Dakota – Applications Due July 15
The North Dakota Department of Health Immunization Program was awarded additional funds to increase adult influenza vaccination rates in those at high risk for both seasonal influenza and COVID-19. Providers may apply for contracts to do special activities to increase influenza vaccination rates in high-risk adults by
completing a brief application
.
Details include:
All proposed activities must be new or enhanced current activities;

Funding cannot purchase vaccines, food, or promotional items; and,

Applicants may apply for $10,000 or $20,000 contracts.
All applications are due by close of business on Wednesday, July 15, and applicants will be contacted either way by Friday, July 17. For questions, please contact Abbi Berg at
alberg@nd.gov
or 701-328-3324.
211 Helpline Now Available Statewide in South Dakota
The Helpline Center in Sioux Falls began offering the 211 Helpline in South Dakota in 2001. Thanks to the South Dakota Legislature passing Senate Bill 2 this year, the 211 Helpline phone number is now available to everyone in
the
state. The 211 Helpline can be called 24/7 by anyone needing information or support - whether financial, family, mental health or disaster-related. Each year their professionally trained staff respond to more than 45,000 calls, texts, and emails, providing help for simple and complex questions.
Looking Ahead: CHAD Announces Fall Virtual Trainings
CHAD is excited to offer a variety of virtual trainings, webinars, and peer learning sessions this Fall. Each is designed to support health centers in their efforts to strengthen leadership, improve clinical quality, and maximize patient engagement. More information can be found by clicking the link for each track.

These webinars, trainings, and sessions are free to members. Other training opportunities will also continue to be made available in the Fall through existing network teams and the ECQIP program.
Supervisor Leadership Academy
September - October 2020
Presented by Ann Hogan Consulting, the Supervisor Leadership Academy is comprised of multiple
webinars focusing on leadership style, cohesive teams, critical conversations, retention, recognition, and employment law. This six-part weekly training series is for people managers at every level. It is designed for a consistent cohort of supervisors and managers to attend the training series together so they can build the familiarity and trust needed for shared learning. It will also be a great way to get to know some of your CHAD peers!
Click
here
for more details
.
Patients First:
How Health Centers Can Identify Socioeconomic Needs and Implement PRAPARE
October 2020 - March 2021
This collaborative learning series, presented by the Association of Asian Pacific Community Health Organizations (AAPCHO), will equip health center teams to effectively use the PRAPARE model for collecting and using social determinant of health data. October sessions will assist in identifying and preparing health center teams to assess their readiness to implement a new data collection initiative on socioeconomic needs and circumstances. Following the first two sessions, the series will move into coaching calls with each health center team and continue into 2021 with guided implementation of the PRAPARE toolkit.
Click
here
for more details.
Patient Portal Optimization Peer Learning Series
September - December 2020
This four-part monthly series will explain why it is important to optimize the patient portal. Trainers will provide portal training resources for staff, considerations for increasing portal functionality, and will assist with eliciting staff and patient feedback to maximize patient engagement. Facilitated by Health Information Technology, Evaluation, and Quality Center (HITEQ), this series will be a peer learning opportunity to learn how others are using different portal features and engaging patients to use the portal. The intended audience for this series is health information technology (HIT) staff, front desk leads, and clinical leads. It will be offered to both CHAD members and members of the Great Plains Health Data Network. Additional details coming soon.
Numbing the Pain:
Implementing

Seeking Safety

for Trauma and/or Substance Abuse Treatment
October 2020
Seeking Safety

is an evidence-based treatment for trauma and substance use disorders. Presented by Treatment Innovations, this virtual training series will occur over the course of five weeks with two-hour training blocks each week. Participants will learn about the connection between SUD and trauma, including statistics, models of treatment, and clinical challenges. This series is intended for behavioral health providers, peer support specialists, case managers, and MAT treatment teams.
Click
here
for more details
.
Health Center COVID-19 Survey Data Trends
Each week, the Health Resources and Services Administration (HRSA) requests information from community health centers across the country to track the impact of COVID-19 on capacity, operations, patients, and staff. The data is used to plan for training and technical assistance, funding, and additional resources. A few highlights from the latest report, dated June 26, include:
Patient Testing
COVID-19 testing capacity is 100% of health centers for both North Dakota and South Dakota.

ND reported an average turn-around of 1-3 days for COVID-19 test results, and SD reported turn-around times ranging from less than an hour to 2-3 days.

ND saw a decrease in the total number of tests performed while SD reported an increase.

Operations
Weekly visits compared to pre-COVID-19 visits in ND increased from 75% to 76%, and SD saw no change with 81.7% of pre-COVID visits.

ND health centers reported a slight decrease in the number of visits conducted virtually, dropping from 25% to 23%. SD health centers conducted 7% of visits virtually, a decrease from 10% the previous week.
Where Do We Go from Here? CHAD Resources to Support Growth Toward Racial Justice and Equity
CHAD is continuing to reflect on questions of racial justice and inequity. As a staff, we recently watched a
video
of Dr. Robin DiAngelo discuss her book, White Fragility. We're also talking about the best way to complete this
21-Day Racial Equity Habit Building Challenge
as a group. We are dedicated to carrying this critical conversation through the summer and beyond. We are
still
considering
hosting
training
that would specifically support health care providers as we seek to promote health equity in our communities.
We have also updated our
curated page of resources
for those interested in expanding their knowledge and engaging with the current national conversation.
Conversations on Health Care
: COVID-19 and American Indians
Conversations on Health Care
is a radio show about the opportunities for reform and innovation in the health care system. This week, hosts Mark Masselli and Margaret Flinter speak with Dr. Donald Warne, director of Indians Into Medicine
(INMED)
at the University of North Dakota School of Medicine and Health Sciences. A renowned expert on American Indian health policies, Dr. Warne talks about the devastating toll COVID-19 is exacting on the nation's most vulnerable communities,  particularly American Indians, who already suffer the effects of long term poverty, health disparities and Congress' repeated failure to fully fund Indian Health Services which has led to a huge burden of chronic disease. Listen
here
.
Addressing Health Inequities in the Era of COVID-19: An Infographic
Disparities in COVID-19 health outcomes stem from health inequities rooted in systemic and unjust social and economic policies. The pandemic has worsened existing health inequities, disproportionately affecting communities of color, immigrant communities, people with disabilities, and other marginalized groups. This visualization, created by Families USA, illustrates five concrete policy priorities that the federal government and states must take to mitigate the impact of the immediate crisis, and policy solutions to adopt once the national emergency declaration has been lifted. Their recommendations include:
Address the social determinants of health;

Build strong financial incentives for improved health equity in our health care system;

Organize and build national public health capacity both to fight COVID-19 and to reduce the burden of chronic illness in vulnerable communities;

Ensure equitable access to affordable health insurance; and,

Expand access to COVID-19 treatment for vulnerable populations.
For more information, see Families USA's companion
report
, The Fierce Urgency of Now: Federal and State Policy Recommendations to Address Health Inequities in the Era of COVID-19.
Advancing Health Equity: A Critical Thinking Tool for Organizations, Programs, and Individuals Committed to Equity
Provided by the Rocky Mountain Public Health Training Center, this
online tool
will walk participants through eight topics of public health processes with a focus on health equity. Each topic includes questions that enhance collaboration and considerations on how to improve health equity and reduce health disparities. The tool's flexibility encourages participants to find the information need
ed
now and to return over time as
necessary to
make organization or program
decisions.
This online tool will enable participants to:
Analyze internal and external agency practices to identify ways in which you support or hinder the achievement of health equity.

Identify practices that you and your agency/program can undertake to advance health equity.

Describe how taking a strengths-based and community-inclusive approach to your work can help to advance health equity.
Provider Relief Fund Deadline July 9
The final deadline to attest to the terms and conditions for the first payment from the Provider Relief Fund is July 9. These funds were received on April 10, and the deadline has been extended three times, so no further extensions are expected. The portal can be found
here
. 
Paycheck Protection Program (PPP) Deadline Extended
Last week, the Paycheck Protection Program (PPP) application deadline was extended from June 30 to August 8. Applications can be found
here
. Provisions were also made earlier in June that allow for more flexibility in spending PPP dollars under the PPP Flexibility Act. You can read more about those flexibilities
here
.
South Dakota Department of Health COVID-19 Update
The South Dakota Department of Health hosts a weekly COVID-19 webinar for health care facilities, medical providers, laboratorians, long-term care facilities, EMS providers, and other health professionals.
Thursdays in June (reoccurring)
10:00 am MT/ 11:00 am CT
For weekly call-in information, please join the listserve
here
. Find archived calls and slides
here
.
Reimagining Care:
Ensuring Access to Coverage During a Pandemic and Beyond
NACHC's new webinar series, "
Reimagining Care
,
" will focus on how health centers will continue to lead the primary health care industry through flexibility and innovation in a post-COVID world.

The third session in this series, Ensuring Access to Coverage During a Pandemic and Beyond, will focus on how health centers are responding to massive disruptions in health insurance status and health care access caused by unemployment and COVID-19-related factors. Speakers from community health centers and primary care associations will highlight innovative models for ensuring that patients and communities maintain critical access to health insurance – whether through Medicaid, Medicare, CHIP, the Marketplace, etc. – during a pandemic. Speakers will highlight virtual workflows, partnerships, and examples of additional enabling services that keep people connected to care. More information and archived sessions can be found
here
.
Thursday, July 9
11:00 am MT/ 12:00 pm CT
Join the webinar
here
.
NACHC Advocacy 101 Webinar: Breaking Through the Noise
In the second installment of the National Association of Community Health Centers (NACHC) Advocacy 101 Summer Training Series, speakers will go over tips and tricks for messaging to keep advocates informed and engaged. Presidential election years can be overwhelming and tend to push folks to stand firm on their respective side of the aisle. Speakers will explore the Congressional calendars to help participants focus on times that are important for health centers and help define the rules for remaining bipartisan as a federally funded entity.
Thursday, July 9
2:00 pm MT/ 3:00 pm CT
Register
here
.
Implementing Telemedicine Webinar Series
The COVID-19 pandemic is demanding that health care providers rethink how they deliver care in ways that reduce the risk of further spreading infection.
In response, the Mountain West AIDS Education Training Center (MWAETC) has designed a 6-session webinar series on implementing telemedicine. The focus of the series will be on helping providers build a successful telemedicine strategy for their clinics, and will be led by John D. Scott, MD, MSc, associate professor of medicine,

Division of Allergy and Infectious Diseases, and medical director of digital health at the University of Washington.
This series is free and separate registration is required for each session. Participants may attend the whole series or chose only to select the sessions of most interest. All sessions will begin at 11:30 am MT/ 12:30 pm CT.
Session #4: Telemedicine Technology

Session #5: Clinical Best Practices for Telemedicine

Session #6: Telemedicine Q&A
Utilizing Telehealth Technologies to Improve Screening for SUDs, Behavioral Health, and Chronic Disease Management
CHAD and Great Plains Health Data Network staff have developed this 2-session series, intended for medical providers, behavioral health providers, IT staff, and clinical managers, will provide strategies for enhancing and extending your integrated behavioral health efforts and for adapting these services to use telehealth technologies in novel and effective ways. Throughout both sessions, experienced trainers from Great Plains Telehealth Resource and Assistance Center (gpTRAC) will provide ways of increasing provider comfort, fluency, and effectiveness in using live video to provide clinical care. The presenters will provide attendees with specific and actionable information with steps to improve their program and its effectiveness. Opportunities for further follow up with specific health centers will also be available.

The first session will focus on integrated behavioral health care as a service. It will include an overview of the spectrum of integrated care services and a discussion of ways to improve screening, referral rates, efficiency, and effectiveness of these vital programs.

Friday, July 17
11:00 am MT/ 12:00 pm CT
Register here.

In the second session, presenters will provide examples of how telehealth technologies can be used to simplify and streamline procedures like handoffs, referrals, case reviews, and other critical parts of an integrated care program.

Friday, July 24


11:00 am MT/ 12:00 pm CT




Register

here

.
CMS Emergency Preparedness Rule Changes Due to COVID-19
Over the past year, the Centers for Medicare and Medicaid Services (CMS) has issued many emergency preparedness rule changes such as reducing training and exercise requirements and using 1135 waivers to support COVID-19 response through expanding telehealth services. This webinar will highlight how rule changes impact CMS healthcare providers' service delivery systems to reduce requirements and create better health outcomes during COVID-19 and other disasters.
Wednesday, July 22
11:00 am MT/ 12:00 pm CT
Register
here
.
Today with Macrae
: Health Center Program Updates
Join Jim Macrae for updates on COVID-19 and other topics, such as the multi-year transformation effort to advance community health. Missed recent Today with Macrae calls? Recordings and transcripts are posted on the Bureau of Primary Health Care's Emergency Preparedness and Recovery Resources for Health Centers
webpage
as soon as possible after each call.
Tuesday, July 28
12:00 pm MT/ 1:00 pm CT  

Join the webinar
on the day of the session.
CHAD Network Team Meetings
Tuesday, July 14 at 1:00 pm MT/ 2:00 pm CT – Marketing Network Team Meeting