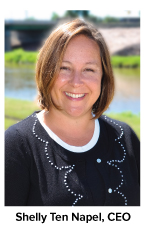 Access to treatment for hepatitis C has become an interesting and important health care justice issue over the last ten years. At the urging of several health center providers, CHAD has gotten engaged in work to improve access to treatment for hepatitis C in the Medicaid program, and we have the opportunity to celebrate a small victory in South Dakota this past month.
To tell the story of hepatitis C treatment, we can go all the way back to late 2013, when the U.S. Food and Drug Administration approved a breakthrough treatment for hepatitis C that could cure the disease for many patients, changing hepatitis C from an uncurable chronic condition that could lead to liver failure to one that could be treated and cured. The problem was that the drug companies that developed the treatment priced it extremely high, threatening to swamp Medicaid budgets. Currently, the leading drug for treating hepatitis C is $1,000 per pill or $84,000 for a 12-week course of medication or $168,000 for a 24-week course. As a result of the high prices, many Medicaid programs moved to limit access to this life-saving medication. While many states initially put significant restrictions in place, those restrictions in access have typically been loosened over time.
States have restricted access to hepatitis C medication by requiring a certain level of liver damage, a degree of sobriety, and limiting the number of provider types that can prescribe the medication. According to the Center for Health Law and Policy Innovation of Harvard Law School (CHLPI) and the National Viral Hepatitis Roundtable (NVHP), the North Dakota Medicaid program receives a C+ grade, and the South Dakota program is given a D- grade in terms of access to hepatitis C medications.
According to a
CHLPI/NVHR report
, South Dakota is one of two states that still requires significant liver damage before hepatitis C treatment is approved.
North Dakota and South Dakota are two of eight states requiring some abstinence from alcohol and substance abuse before treatment can be approved.
States also have limited access to care by only allowing certain specialists to approve treatment for hepatitis C. This was an important barrier in our rural states because seeing those specialists required expensive and logistically difficult travel and long wait times for appointments. Several providers, including Tami Hogie-Lorenzen, NP, from South Dakota Urban Indian Health and Dr. Douglas Lehmann from Community Health Center of the Black Hills, testified before the Medicaid Pharmaceutical and Therapeutics Committee outlining these barriers to care. As of May 1, South Dakota has improved access to care by allowing primary care providers to prescribe hepatitis C medications. We appreciate the Department of Social Services' willingness to make that change, and we look forward to continuing to improve access to life-saving hepatitis C medication for those who need it.
Health Centers in the News
Jamestown, ND business, Bogobrush, donated 1000 toothbrushes to Family HealthCare for distribution to patients via
The Forum

.
South Dakota: Vote No on Amendment C on June 7
South Dakotans for Fair Elections, the campaign formed to oppose Amendment C, is comprised of a broad coalition of individuals and organizations that spans industries and partisan politics, working to ensure that South Dakota's ballot initiative measure, constitutional amendment, and referred measure process stay intact.
Amendment C would permanently change the South Dakota constitution to end majority rule for ballot measures, allowing a small minority to block important decisions most voters want. If Amendment C passes, it will take just 41% of voters to stop funding for essential programs, including law enforcement, rural health centers, nursing homes, schools – the list goes on. View the most recent campaign ad

here

.
Please join CHAD and other local health care organizations in voting NO on Amendment C on Tuesday, June 7.
American Cancer Society Cancer Action Network
American Heart Association
Avera Health
Leukemia & Lymphoma Society
Monument Health
Sanford Health
South Dakota Nursing Association
South Dakota State Medical Association
Two Spirit & LGBTQ+ Group at
South Dakota Urban Indian Health
In honor of LGBTQ Pride month, CHAD's

Shannon Bacon

sat down with South Dakota Urban Indian Health (SDUIH) to learn more about the Two Spirit & LGBTQ+ Group they host twice per month in Sioux Falls. Meetings are hosted at its new downtown center and may include discussions, relevant videos, and traditional cultural activities such as bead making, smudging, and singing. The group often opens with a prayer or a song.
Dylan Daniels and April Matson facilitate the group and bring their lived experience expertise into their professional roles. Dylan is a cultural health nurse with SDUIH and identifies as a queer, Two Spirit, transgender man. April is an administrative assistant with SDUIH and identifies as Two Spirit. SDUIH leadership has worked to create an inclusive workplace for staff and often calls on the lived experience expertise of staff across multiple identities.
April describes Two Spirit as "an umbrella term used by Indigenous people to describe their sexual identity, gender identity, and cultural identity." It generally means that an individual encompasses both a masculine and feminine spirit. While the term Two Spirit is more contemporary (Dylan shared it was created as an affirming term in the 1980s by a group of LGBTQ Native folks), the identity itself is not. Many Indigenous tribes acknowledged and celebrated genders outside the binary before colonization.
Dylan and April shared that today, Indigenous LGBTQ+ and Two Spirit folks often find themselves needing to compartmentalize these identities. LGBTQ+ community spaces often reflect a dominant, White culture, while traditional Indigenous spaces may reflect more traditional binary gender roles. In the new group hosted by SDUIH, cultural and gender and sexual identities can be wholly integrated, and participants can relate to one another on a deeper level. Dylan explains it can be "profoundly healing to have both of these things in one space."
When asked what primary care teams can do to create more welcoming spaces for LGBTQ+ and Two Spirit individuals, Dylan & April had several recommendations, which can be heard in this short
video interview
. These included:

 
Ask about the names and pronouns they use, which may be different than what's listed on legal documents;

Refrain from making assumptions about what body parts someone may or may not have (this can directly impact health screening recommendations) or the gender of their partner;

Reach out to individuals who either identify this way or have done this kind of work; and,

Include printed materials with LGBTQ+ and Two Spirit representation.
Thanks to Dylan and April for sharing these great tips. Happy Pride Month! Looking to learn more? Check out these resources:
Connect with North Dakota Tribal Liaisons
The North Dakota Department of Health (NDDoH), Health Equity Office (HEO), employs four tribal health liaisons who work to bridge communication among the department, tribal communities, and surrounding urban areas while addressing and improving tribal health equity.
Health center staff can connect with the tribal health liaisons for help in the following areas. Primary activities of the tribal health liaisons include:
Collaboration with various state and local programs/entities to provide expertise, resources, and support (e.g., STI, family planning, oral health, behavioral health, veterans affairs, schools, health care systems, urban homeless shelters, rape crisis centers, and food pantries);

Education and awareness of COVID-19, including testing and addressing vaccine hesitancy;

Serving as content experts on task forces, committees, and coalitions;

Assisting with tribal efforts to promote healthy pregnancies and postpartum care;

Assisting with the development and continued updates to the HEO and COVID-19 strategic plans; and,

Additional efforts as requested by the department and/or tribal communities.
Fostering working relationships with each of the five tribes is also a critical work function of the tribal health liaisons and the HEO. Each tribal health liaison is primarily assigned to one or more tribes and surrounding urban areas, with two liaisons covering the Eastern and Western regions of the state and providing backup to each other.
Jamie Thongphet – Spirit Lake Nation and Sisseton Wahpeton Oyate:
Jamie received her Bachelor of Science in nursing at Minot State University and Master of Science in nursing at the University of Mary. She is an enrolled tribal member and has a background in nursing. She assists on a wide range of projects within and outside of the NDDoH with the commitment to furthering health equity. Her email is
jthongphet@nd.gov
,
and her phone number is 701-328-4178.
Hunter Parisien – Turtle Mountain Band of Chippewa:
Hunter received his Bachelor of Science from Mayville State University and has worked in health care for 13 years, specializing in health care administration and health delivery systems. As a tribal health liaison, Hunter currently looks for opportunities to address health disparities in tribal nations and connects services and resources to marginalized populations. He is an enrolled member of the Turtle Mountain Band of Chippewa and currently resides in the Lake Region Area with his wife and four children. His email is
dlhparisien@nd.gov
,
and his phone number is 701- 328-5365.
Sonya Abe – Mandan, Hidatsa, and Arikara Nation:
Sonya is an enrolled tribal member of the Mandan, Hidatsa, and Arikara Tribal Nation. She resides on the Fort Berthold Indian Reservation in North Dakota. Sonya obtained a Bachelor of Science degree from Fort Lewis College in psychology and a second Bachelor of Science in environmental science from Nueta Hidatsa Sahnish College. As a tribal health liaison for NDDoH, she works with tribal people within tribal nations and in urban areas by connecting them to services within NDDoH. She connects the tribal nations with state partners and collaborates with Native American non-profit programs to help increase the health and wellbeing of all Native Americans that reside in North Dakota. Before joining the NDDoH, Sonya worked with quality care and assurance at Elbowoods Memorial Health Center in New Town, North Dakota, for several years. Her email is
sabe@nd.gov
,
and her phone number is 701-328-8640.
Cheyenne Smith – Standing Rock Nation:
Cheyenne graduated from Carroll College with a Bachelor of Arts in health sciences and community health. She lived on the Standing Rock reservation for a few years, where she worked in the schools and briefly in health care. She works with the HEO and the other tribal health liaisons to establish a working relationship with the tribes of North Dakota through educational delivery methods, conducting disease investigations, and addressing COVID-19 vaccine hesitancy education and awareness. Her email is
cmsmith@nd.gov
,
and her phone number is 701-328-5333.
COVID-19 Update & Resources
According to a recent
article
from Dr. Katelyn Jetelina, the United States is facing the second largest COVID-19 case surge and fifth-largest hospitalization surge.
Antivirals and treatments for COVID-19 are now widely available and can be accessed with a provider prescription at pharmacies nationwide and at
Test to Treat locations
.
Along with therapeutics, many test kits continue to be available for order and use at no cost. A third round of test kits is available for order from USPS by accessing
this website
.
Vaccines continue to be the best protection against hospitalization from COVID-19. This month, the US Food and Drug Administration (FDA) plans to review data on COVID-19 vaccines for children ages six months through four years. If a vaccine is authorized by the FDA and recommended by the CDC's Advisory Committee on Immunization Practices (ACIP), it will be made available for ordering through the Health Resources and Services Administration's (HRSA's) Health Center COVID-19 Vaccine Program and should be administered according to related requirements and recommendations. For helpful information and tips for COVID-19 pediatric vaccination, including resources, readiness reminders, and guidance, please visit the
HRSA action checklist for children ages 6 Months - 4 Years
.
The
HRSA Health Center COVID-19 N95 Mask Program
has been extended and will now accept orders through Monday, June 20. Health centers will have two additional opportunities to order masks through this program: Monday, June 6, and Monday, June 20. HRSA encourages health centers to work with community partners (including community and faith-based organizations, HUD-assisted housing, and aging and disability networks) to order and distribute masks to meet community needs. HRSA increased ordering caps to support larger orders and allow for health centers with available space to order masks to store for upcoming months. All orders must be received by Monday, June 20.
COVID-19 Response Programs Office Hours
While these sessions are geared toward participants in the COVID-19 Response Programs, any HRSA-supported health center is welcome to attend. One-hour sessions are 12:00 pm CT/ 11:00 am MT.
Register one time
and access all office hour sessions until February 2023.
National Telehealth Conference hosted by HRSA and Telehealth.HHS.gov
In this conference, experts in the field examined the evolution of telehealth as part of the standard of care and the importance of its continued integration in an overall integrated care delivery model. Participants heard from HHS leadership along with telehealth experts on a variety of hot topics, including:
Achieving health equity through increased access and adoption of telehealth, including the improvement of broadband connectivity

;

The role of telehealth as a tool to improve the quality of care for patients, especially those in underserved communities

;

Tele-behavioral health as a model and example of the success of integrating telehealth during the pandemic and beyond

;

Sharing clinical telehealth best practices and lessons learned

;

and

,

Identifying health policy implications for telehealth to inform the future of telehealth in an evolving health care environment.
Conference recordings can be accessed
here
.
Additional Resources
COVID-19 Vaccination for Children website
COVID Vaccine Flow Chart Immunocompromised.pdf (nd.gov)
COVID-19 Vaccine EUA Recipient/Caregiver Fact Sheets | CDC
A Contextual Approach to Patient Motivation:
A Six-Part CHAD Webinar Series
Both medical and behavioral health providers working in primary care are tasked with helping patients engage in behavior changes to improve patients' overall health. However, this can be especially difficult due to many factors, including time constraints and complex interplays between medical and psychosocial contexts, making it particularly difficult for patients to create and sustain changes to their behavior.
Join CHAD for a primary care behavioral health series that centers on how you can make your clinical work more compassionate and contextual. Drs. Bridget Beachy and David Bauman, licensed psychologists and co-principals at Beachy Bauman Consulting, have extensive experience delivering integrated care and training providers, nurses, and medical teams about integrating behavioral health care and principles into medical visits.
In the first session, attendees will learn how to effectively gather a patient's context via the contextual interview. In subsequent sessions, presenters will discuss how a contextual approach can support diabetes, depression, smoking cessation, anxiety, and substance use improvements. This series is intended for providers working in primary care looking to make their clinical work more compassionate and contextual, allowing for a deeper connection in honoring the patients' journey.
Forty-five-minute sessions will begin Wednesday, June 8 at 12:00 pm CT/ 11:00 am MT and continue biweekly through August 17. Register for the entire series
here

.
Community Health Workers:
South Dakota Medicaid State Plan Amendment
The South Dakota Department of Social Services recently issued a
State Plan Amendment
(SPA) with a 30-day public comment period to share proposed changes to billing regulations for community health workers (CHW). If approved, the SPA would begin (retroactively) on June 1.
The SPA is a response to advocacy work CHAD prioritized in response to identified health center barriers. If approved by the Centers of Medicare & Medicaid Services (CMS), the plan would:
Allow dentists to order CHW services on behalf of a patient; and,

Remove the existing location requirements (community or home setting only), allowing CHWs to see patients in the clinic for a limited number of services.
An updated
Medicaid billing manual
is expected in early June. CHAD will provide outreach to CHW program managers as soon as the manual is posted.
NACHC Electronic Health Record (EHR) User Groups
The National Association of Community Health Centers (NACHC) has been hosting a series of recurring virtual EHR user group meetings for anyone from a community health center to join. Currently, they have EHR user groups for NextGen, eClinicalWorks, Greenway Intergy, athenaPractice/athenaFlow, and have recently added Epic. This is a great opportunity for health centers to "meet and discuss common issues, share experiences and gain valuable insight on accomplishments and best practices." Some of the benefits that NACHC lists are:
Connect with other health centers that use the same EHR platform as you;

Discuss the issues and enhancements most important to health centers;

Groups led by health centers, HCCNs, and PCA staff on a voluntary basis; and,

Online forums to exchange ideas, lessons learned, and best practices.
To join an EHR user group, go to the
NACHC website
and register for a user group that matches your EHR.
NACHC's Telehealth Office Hour: Remote Self-Monitoring Blood Pressure Program
Join the National Association of Community Health Centers for a monthly webinar where speakers will share a remote self-monitoring program implementation and integration at multiple health centers in Sacramento, California. The self-monitoring program includes health education in collaboration with primary care. Presenters will describe major challenges engaging stakeholders and how they were addressed.
Thursday, June 9
1:00 pm CT/ 12:00 pm MT
Register
here
.
UD-Yes! 2022 UDS Clinical Quality Measure Updates
The 2022 UDS submission deadline will be here before you know it. Get a head start on your validation efforts. Hosted by Azara Healthcare, this webinar will cover the key changes to the 2022 UDS CQMs and review the related mapping and data categories to help ensure your success come February.
Thursday, June 9
1:00 pm CT/ 12:00 pm MT
Register
here
.
Operations and Retention Measures
Do you want to better and more specifically track new patients and patient turnover? Azara Healthcare has 14 new operational measures designed to display where new patients are coming from. Do they already exist in the center but are new to a specific service line? Or are they new to both the center and a particular service line? In this webinar, presenters cover these measures and situations where they can help reduce manual Excel work.
Thursday, June 23
1:00 pm CT/ 12:00 pm MT
Register
here
.
North Dakota Department of Health Monkeypox Health Alert
The North Dakota Department of Health provided this information from the Centers for Disease Control and Prevention (CDC) regarding recently reported cases of monkeypox. In May, monkeypox was confirmed in a Massachusetts resident, adding the United States to a growing list of countries confirming recent monkeypox cases. These cases are unusual because the usual risk for monkeypox, travel to an endemic area, is absent in many cases. In addition to assessing patients for risk factors such as recent travel, obtaining a good sexual history will be important for patients presenting with a rash illness. Many of the cases have occurred among men who have sex with men. Monkeypox may be part of the differential diagnosis that may include other rashes/lesions associated with sexually acquired infections.
Suspected cases of monkeypox should be immediately reported to the North Dakota Department of Health by calling 1-800-472-2180 or 701-328-2378. The laboratory services section at the North Dakota Department of Health offers PCR testing for monkeypox.
Building a Village: Community Linkages for COVID-19 Vaccines and Beyond
This month, the FDA will consider issuing an Emergency Use Authorization for a COVID-19 vaccine for young children. Please join HRSA for a special town hall event to identify partnership opportunities and provide a more comprehensive system of services and care for childhood COVID-19 vaccines and beyond. The event will feature panelists from the CDC and HRSA's Maternal and Child Health Bureau, Bureau of Primary Health Care, and Health Systems Bureau. 
Thursday, June 9
2:00 pm CT/ 1:00 pm MT
Register

here

.
Wildfire Preparedness for Health Centers
Hosted by CHAD, this one-hour session is for health centers at risk from wildfires. The training includes planning steps such as identifying service priorities, communications plans, and ways to remain aware of fires nearby. Speakers will provide actionable steps for health centers to take before, during, and after wildfires as well as information to support staff mental health during times of disaster.
Thursday, June 16
12:00 pm CT/ 11:00 am MT
Register

here

.
Register Today: Grow-Your-Own Clinical Workforce with HP-ET Strategic Planning Webinar
Grow-your-own is a core element of health center workforce planning. Health professions education & training (HP-ET) programs are a proven strategy for the next generation of health center clinical providers and staff.

Hosted by CHAMPS, this webinar will feature Nataly Diaz, deputy director of workforce development from the California Primary Care Association (CPCA), and Kelly Rondou, senior consultant, organizational performance from Wipfli LLP. Participants will learn about the CPCA and Education Health Center Initiative (EHCI), review key elements of strategic workforce planning for HP-ET programs, and understand how they can leverage this free resource for their workforce efforts.
Thursday, June 23
1:00-2:30 pm CT / 12:00-1:30 pm MT
Register
here
.
Save the Date: Region VIII Health Care for the Homeless Grantee Collaborative
Mark your calendars for the CHAMPS Region VIII Health Care for the Homeless Grantee Collaborative. This quarterly Zoom conference call includes Region VIII Health Care for the Homeless (HCH) grantees, other interested health centers, and primary care associations. It is a safe platform for health centers in Region VIII that serve people experiencing homelessness to share best practices, discuss challenges, hear from experts in their field, and identify desired training/technical assistance. Those wishing to attend do not need to be HCH grantees. More details and how to receive the call information can be found on the CHAMPS
Homeless and Public Housing Resources
webpage.
Wednesday, August 7
12:30 pm CT / 11:30 am MT
Save the Date: "Start the Conversation" Suicide Prevention Conference
Save the Date! The Department of Social Services - Division of Behavioral Health and state partners are excited to announce that registration for the 2022 Suicide Prevention Conference is now open. This no-cost conference is a great opportunity to "start the conversation" around suicide prevention in South Dakota, featuring key speakers in veterans, youth, tribal communities, resiliency, and those with lived experience of suicide loss or survival.
Thursday, August 11, 10:00 am - 5:00 pm CT/ 9:00 am – 4:00 pm MT
Friday, August 12, 8:00 am - 12:00 pm CT/ 7:00 am – 11:00 am MT
Register
here
.
CHAD Network Team Meetings
Tuesday, June 14 at 2:00 pm CT/ 1:00 pm MT – Communications and Marketing Network Team
Tuesday, June 28 at 1:00 pm CT/ 12:00 pm MT – Outreach & Enrollment Network Team
Tuesday, June 28 at 3:00 pm CT/ 2:00 pm MT – CFO & Finance Manager Roundtable
Thursday, July 7 at 12:00 pm CT/ 11:00 am MT – Clinical Quality Network Team
This account is supported by the Health Resources and Services Administration (HRSA) of the U.S. Department of Health and Human Services (HHS) as part of an award totaling $1,499,709.00 with 0 percent financed with non-governmental sources. The contents are those of the author(s) and do not necessarily represent the official views of, nor an endorsement, by HRSA, HHS, or the U.S. Government. For more information, please visit HRSA.gov.