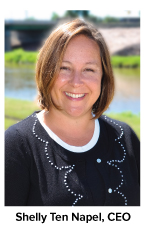 Happy Health Center Week! In celebration, we are highlighting some of the excellent work you all are doing in your rural communities.
Our rural communities face unique health care needs. Today more than ever, rural communities must tackle accessibility issues, a lack of health care providers, the needs of an aging population suffering from a greater number of chronic conditions, and larger percentages of uninsured and underinsured people.

Rural areas need health centers so people will have health care providers in their communities that they can trust. It also means rural residents have more local options for care, including telehealth, which reduces the need to drive long distances to reach facilities and see providers and specialists in bigger cities.
As I said in the last CHAD Connection newsletter, this year's National Health Center Week theme is, "I love my health center." We are enjoying everyone's photos and testimonials on social media, highlighting the things they love about their health center. Several of the CHAD staff embraced their rural roots when celebrating National Health Center Week! (See their photos below.) We can't wait to see how everyone else will show their health center support.
National Health Center Week is a great opportunity to express our heartfelt thanks and appreciation to rural health care providers, including primary care teams of medical assistants, nurses, advanced practice providers, and physicians, behavioral health providers, dental teams, front office staff, health information technology professionals, administrators and others who are literally saving lives every day.
Health Centers in the News
Horizon Health Care CEO Wade Erickson joined
Keloland Living
to share Horizon Health Care's mission during National Health Center Week and the importance of health centers in our rural communities.
Dakota News Now interviewed Horizon Health Care provider Len Wonnenberg about insulin prices and
Horizon's 340B program
.
Shelby Kommes with the Sioux Falls Health Department spoke with
Dakota News Now
about the fifth annual Blue Move 5K to raise funds for colorectal cancer screenings for patients at Falls Community Health.
Clinician and Researcher Partnership
Opportunities in the Dakotas

On August 4 and 5, CHAD participated in the University of North Dakota (UND) Dakota Community Collaborative on Translational Activity (DaCCoTA) annual summit in Sioux Falls. The DaCCoTA aims to bring together researchers and clinicians with diverse experiences from the region and develop unique and innovative ways of combating disease in North Dakota and South Dakota. CHAD plays an active role in the DaCCoTA's community engagement & outreach core, which focuses on engaging populations affected by health inequities to develop community-based research priorities that can be translated into improved health outcomes.
At the summit, health care providers, researchers, and other stakeholders came together to explore collaboration opportunities and regional research priorities. CHAD CEO Shelly Ten Napel presented an overview of health centers. So many attendees were excited to hear about the great work health centers do across the Dakotas!
The DaCCoTA program currently has several open requests for applications (RFAs). These include
DaCCoTA Scholars Program;

DaCCoTA Basic Scholars Program;

DaCCoTA Community Engagement Scholars Program;

Clinical Research Opportunities Program; and,

Translating Epidemiology to Experiments (TREE) Pilot Grant Awards.
To learn more about these opportunities, please visit
https://med.und.edu/daccota/
. In most cases, letters of intent are due September 9, and applications are due November 28. Reach out to
Shannon Bacon
at CHAD with questions.
Back to School COVID-19 Update
With the fall season just around the corner, kids and parents are preparing to return to school. It is important to remain aware of the ongoing COVID-19 pandemic. The Centers for Disease Control and Prevention (CDC) released new
guidance for k-12 schools
this week to help reduce the spread of COVID-19 and severe illness to students and staff.
The CDC reports that
10%
of children ages 5-11 are up to date on COVID-19 vaccination, and
27%
of 12-17-year-olds are up to date. Schools and primary care providers play an important role in access and education about childhood vaccinations.
Many families have been staying at home as much as possible to help stop the spread of COVID-19. As a result, many children and adolescents have missed annual wellness visits, check-ups, and routine childhood vaccinations.
The CDC and the American Academy of Pediatrics recommend every child continues to receive recommended vaccinations during the COVID-19 pandemic.
Strong, universal vaccine campaigns at schools and education from primary care providers will help in the efforts to vaccinate and be aware of when to test and isolate throughout the school year. Parents
report
that schools, pediatricians, and health departments are the most trusted sources of information about vaccines and testing recommendations for COVID-19 and other illnesses.
The CDC encourages staff and students to stay home when sick. People with symptoms of infectious diseases, including COVID-19,
influenza
, respiratory syncytial virus (RSV), and gastrointestinal infections, should stay home and get tested for COVID-19. People at risk of getting very sick with COVID-19 who test positive should consult a health care provider immediately for possible treatment.
The CDC is expected to lift certain classroom restrictions concerning testing and social distancing in hopes parents and students will better follow the guidance. This guidance could lift quarantine recommendations for those exposed to the virus, whether vaccinated or not. While not final, the draft CDC report allows those in school exposed to a known COVID-19 case to mask for ten days and test on day five without having to quarantine and miss days in school. Parents and children are encouraged to utilize the at-home antigen test kits, and while a child may test positive for COVID-19, the recommended isolation is five days. For more information about testing, see
Overview of Testing for SARS-CoV-2, the virus that causes COVID-19
,
and
What to Know About COVID-19 Testing in Schools
.
On August 4, the US declared the
monkeypox
outbreak a public health emergency in the US. While the cases remain low in North Dakota and South Dakota, clinicians need to be aware of the
symptoms
of monkeypox and be ready to test and possibly
treat
to help prevent the spread in the communities they serve.
The Health Resources & Services Administration (HRSA)
monkeypox information
web page offers information to stay up to date on the monkeypox outbreak and access resources, including press releases, fact sheets, and webinars. HRSA updates this web page regularly as new resources and information are available.
In North Dakota, access the laboratory test requisition
form
found on the microbiology website when testing for monkeypox and
select "bioterrorism rule out-agent suspected monkeypox." To order monkeypox test kit supplies, go to the
Laboratory Supply Request Form
and select "monkeypox test kit." Before sending specimens or for any questions regarding testing for monkeypox in North Dakota, contact the state epidemiologist team at 701-328-2378 or 800-472-2180.
In South Dakota, find the lab requisition for monkeypox
here
,
and testing supply requests should be filled out using this
form
. Under the miscellaneous option, type in "monkeypox testing supplies" and fax the request form to the South Dakota Dept of Health laboratory. Before sending specimens or for questions regarding testing for monkeypox in South Dakota, contact the South Dakota epidemiologist team
at 605-773-3737.
This week, the US Food and Drug Administration (FDA) issued an emergency use authorization (EUA) for the JYNNEOS vaccine to allow health care providers to use the vaccine by intradermal injection for individuals 18 years of age and older who are determined to be at high risk for monkeypox infection. This will increase the total number of doses available for use by up to five-fold, as five doses may now be obtained from a single dose vial. The EUA also allows for the use of the vaccine in individuals younger than 18 years of age determined to be at high risk of monkeypox infection. In these high-risk individuals, JYNNEOS is administered by subcutaneous injection. Find a copy of the FDA's press release
here.
Additional resources
Best Practices for Food Insecurity Screening & Intervention in Medical Settings August 16
Food insecurity is a significant public health problem. People in food-insecure households are likelier to report poorer health and have higher risks for chronic diseases like obesity, hypertension, and diabetes. Food insecurity negatively affects children's health and development and increases the risk for iron-deficient anemia, acute infection, chronic illness, hospitalization, and developmental and mental health problems.
This one-hour virtual training, presented by CHAD and the Great Plains Food Bank, will cover best practices in health care settings implementing food insecurity screening and interventions. Screening for food insecurity is an evidence-based way to support patients facing food insecurity in clinical situations, especially in environments where a significant percentage of the patient population has been identified as low-income. Screening can be quick and incorporated as a standardized protocol into existing patient intake procedures.
This presentation is recommended for organizations w
ith a newly launched screening protocol, new staff, or if it has been over 12 months since beginning a screening policy.
Health care settings currently screening for food insecurity or interested in screening for food insecurity, particularly those partnering with a food bank to address food insecurity during a medical visit, will also find this information valuable. Register
here
.
2022 Healthy Hometown
SM
Community Awards
Due August 12
The 2022 Healthy Hometown

SM

Community Awards are accepting applications. Any community in South Dakota that has completed at least four tactics from the
Healthy Hometown Tactics Reference Guide
is eligible to apply. The tactics must have been completed between July 1, 2021, and June 30, 2022, and either be a new or enhanced project or policy. The winning community or communities will receive a cash gift to put back into their community health improvement efforts. Interested parties are encouraged to look at the tactics reference guide and seek input from other community members or organizations who may have implemented a tactic from the list.
Please share with any communities that may be interested in applying. Several communities not working with Healthy Hometown have won in the past. The application and tactic reference guide can be found
here
. Applications must be received by Friday, August 12, by 5:00 pm CT/ 4:00 pm MT.
Health Centers Funded to Advance Health Equity Through Better Data
During National Health Center Week, the US Department of Health and Human Services (HHS), through the Health Resources & Services Administration (HRSA), awarded nearly $90 million in American Rescue Plan Act (ARPA) funding to nearly 1,400 health centers across the country to advance health equity through better data collection and reporting. These ARPA Uniform Data System patient-level submission (UDS+) awards will help strengthen efforts to eliminate inequities in COVID-19 care and outcomes within communities of color and other underserved populations.
Funding supports a data modernization effort aimed at better identifying and responding to the specific needs of patients and communities through improved data quality, advancing COVID-19 response, mitigation, and recovery efforts, and helping prepare for future public health emergencies. HRSA's initiative is designed to enable health centers to have better data on patient health status and social determinants of health. With better information, programs can tailor their efforts to improve health outcomes and advance health equity by more precisely targeting the needs of specific communities or patients, particularly as part of the public health emergency response.

All 11 participating health centers participating in the Great Plains Health Data Network have received $65,500 to support this effort. Click
here
to access the full press release.
ARPA-UDS+ Award Recipient Technical Assistance Webinar
Tuesday, August 16
12:00 pm CT/ 11:00 am MT
Join the day of the session

.
Azara Healthcare Webinars
DRVS Tools to Simplify Immunization Managemen
t


Vaccinations are always top of mind, whether for grant reporting or part of a value-based contract, as the COVID-19 pandemic continues. Join Azara to learn about how DRVS supports immunization efforts for practices, including our immunization management report and COVID vaccination measures and alerts.
Thursday, August 11
1:00 CT/12:00 MT
Register
here
.
Back to School: DRVS 101
Gain more knowledge about the basic functionalities of DRVS. This session is designed for practice staff who may have recently joined the organization or those needing a DRVS refresher.
Thursday, August 18
1:00 CT/12:00 MT
Register
here
.
Back to School: Keep Your Data Healthy
This webinar explores DRVS tools for data quality activities. These reporting features will help health centers identify, monitor, analyze and improve data quality using tools available in DRVS.
Thursday, August
25
1:00 CT/12:00 MT
Register
here
.
Online & In-the-Know
: Annual Influenza Update 2022-2023
Join Immunize South Dakota for the next session of Online & In-the-Know for a preview of the upcoming flu season. Presenters from Sanofi, Sanford Health, and Families Fighting Flu will provide an influenza market update and discuss the disease immunization rates. They will also review considerations for the flu vaccine with COVID-19 vaccines, address common myths, and provide resources for the upcoming 2022-2023 flu season.
Tuesday, August 16
12:30 pm CT/ 11:30 am MT
Register
here
.
CHAD Billing & Coding Webinar Series - Front Desk Excellence
Front desk and patient services staff play a critical role in the patient experience and capturing important information necessary for billing and reimbursement. In this session, participants will learn lessons on making a great first impression and ensuring the patient experience is pleasant and effective. The presenter will also share best practices and language to ask patients for sensitive information on insurance status, household income, and ability to pay.

Friday, August 19
11:00am CT/ 10:00 am MT
Register
here
.
Badlands Symposium for Tobacco Use Disorder Treatment
Quitting tobacco is one of the most important things people can do to improve their health. Every health care touchpoint is an opportunity. At this in-person event in Dickinson, ND, participants will learn to utilize pharmacists during tobacco and nicotine treatment because of their new prescriptive authority of cessation medications and incorporate tobacco and nicotine dependence treatment into overall treatment for substance use disorder and other behavioral health conditions. Speakers will discuss treatment options for youth vaping and describe the threat to North Dakota's Smoke-Free Air Law and how policies affect normalcy and rates of use. 2.0 free credits and hors d'oeuvres provided by Tobacco Free North Dakota.
Monday, August 22
4:30 – 7:00 pm MT
Register
here
.
Developing and Sustaining a Successful Community Health Worker Workforce in South Dakota
The Community Health Worker Collaborative of South Dakota (CHWSD) will present information about past, present, and future work that was completed and is to be completed to develop a sustainable community health worker (CHW) workforce in South Dakota. The CHWSD is a relatively new organization funded by the South Dakota Department of Health with the mission to promote, support, and sustain the CHW profession in South Dakota. The presentation will include an overview of the organization and the CHW profession, how organizations can implement CHWs within their workforce, and an overview of CHWSD's three-year strategic plan. Information will also be presented regarding reimbursement models available to ensure CHW sustainability and funding opportunities to start a CHW program.

Free for South Dakota Association of Healthcare Organizations (SDAHO) members.
Tuesday, August 30
12:30 pm CT/ 11:30 am MT
Register
here
.
CHAD Network Team Meetings
Tuesday, August 30 at 1:00 pm CT/ 12:00 pm MT – Outreach & Enrollment Network Team
Tuesday, August 30 at 3:00 pm CT/ 2:00 pm MT – CFO & Finance Manager Roundtable
Thursday, September 1 at 12:00 pm CT/ 11:00 am MT – Clinical Quality Network Team
Tuesday, September 6 at 12:00 pm CT/ 11:00 am MT – Behavioral Health Work Group
Thursday, September 8 at 9:30 am CT/ 8:30 am MT – Emergency Preparedness Network Team
Monday, September 12 at 1:00 pm CT/ 12:00 pm MT – Operational Excellence/Compliance Workgroup
Tuesday, September 13 at 2:00 pm CT/ 1:00 pm MT – Communications and Marketing Network Team
This account is supported by the Health Resources and Services Administration (HRSA) of the U.S. Department of Health and Human Services (HHS) as part of an award totaling $1,499,709.00 with 0 percent financed with non-governmental sources. The contents are those of the author(s) and do not necessarily represent the official views of, nor an endorsement, by HRSA, HHS, or the U.S. Government. For more information, please visit HRSA.gov.