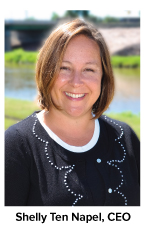 On April 5, community health centers in North Dakota experienced a new type of grantmaking and a new type of partnership with the North Dakota Department of Health (NDDOH) and the Caring Foundation, the foundation of Blue Cross/Blue Shield of North Dakota. We used a participatory grantmaking model to distribute funds to health centers. New to the idea of participatory grantmaking? Me, too! Stick with me to learn a little more about how it worked.
When NDDOH received federal COVID-19/health equity resources, staff at the Community Healthcare Association of the Dakotas (CHAD) began talking with NDDOH staff about ways we might work together to promote health equity in the state. NDDOH staff had been learning about the participatory grantmaking model, so they introduced it as a possible way to distribute funds. The concept of participatory grantmaking is that the funder makes a certain amount of resources available, but grantees and other partners decide how it is distributed. It is designed to change the power dynamic between funder and fundees and center decision-making closer to the community level. It is also designed to move the focus of effort from developing and submitting formal applications to a collaborative process of sharing ideas, being creative, listening to partners, and problem-solving. Upon learning about the model, the Caring Foundation encouraged CHAD to apply for a Spark grant to be added to the amount of funding to be distributed.
Each participating health center was asked to develop a proposal to promote health equity in their communities. They were also asked to invite community partners who might have a stake in the decisions made. Finally, there was a shared pool of funding that the grantees could decide to divide between themselves or use for a shared, possibly state-wide project. At the meeting, each health center presented its proposal, received feedback from the group, modified its proposal, and then submitted it for final approval by the participants. Following are the projects that were selected:
Northland Health Centers:
A community outreach coordinator will work within the integrated team to plan and implement programs to meet the social and emotional needs of patients and patients' families.

Implement the CareMessage tool with the goal of centralizing and automating electronic communication while providing personalized support designed to improve health outcomes for underserved populations.
Spectra Health:
Provide a transportation assistance program for patients.

Implement two onsite non-perishable food distribution programs (in both Grand Forks & Larimore).

Provide social work services to patients.

Implement the Azara Referral Management module.
Community Health Service Inc.:
Develop an antiracism organizational strategic plan with support from an expert consultant and staff engagement.

Host staff training in antiracism and equity with the support of an expert consultant.

Create an antiracism, equity, and inclusion committee and foster internal staff champions who will co-design the process of institutional rebuilding and antiracism planning.
Pooled funds:
CHAD is to purchase the Azara Payer Integration (with North Dakota Medicaid being the target) add-on to be available to all North Dakota Great Plains Health Data Network members.
Health Centers in the News
Spectra Health was recognized as a "Public Health Hero" by the Grand Forks Public Health Department via the

Grand Forks Herald

.
CHAD Welcomes Darci Bultje as the
Training and Education Coordinator

Please join us in welcoming Darci Bultje to CHAD! She started in March as the training and education coordinator. Darci will organize logistics and event details for engaging and educational virtual and in-person trainings, meetings, and conferences in this role. Darci brings over 19 years of experience to CHAD as the community services director at a South Dakota community action agency. She is a nationally certified results-oriented management and accountability trainer and a poverty simulation facilitator. Darci has experience in training, meeting facilitation, strategic planning, and event planning. Darci is also a certified community action professional.
Darci graduated from South Dakota State University with a degree in ag journalism. She lives on a farm near Lake Andes with her husband Brice and three daughters. They raise Angus cattle and Rambouillet sheep as well as chickens, horses, and pet goats. Darci is active in 4-H, serving as a leader and volunteer. She enjoys spending time with family and friends, hot days on the Missouri River, and binge-watching Netflix.
Report: Establishing Patient Linkages to
Diagnostic Colonoscopy
The South Dakota Colorectal Cancer Control Program recently released a
report
highlighting Horizon Health Care's efforts to secure colonoscopy services with a nearby critical access hospital. The partnership works to support the completion of follow-up colonoscopies for eligible patients after a positive or abnormal screening test. The outlined steps may guide similar health centers seeking to enhance adherence to recommended follow-up colonoscopies and overall service provision to their patient population through patient navigation. Read the full report
here
.
President Biden's FY2023 budget
was released on March 28, kicking off the development of Congressional appropriations bills. CHAD has sent letters to the North Dakota and South Dakota Members of Congress with the following requests:
COVID-19 Update & Resources
The Centers for Disease Control and Prevention (CDC) recommends additional booster COVID-19 vaccines for certain
individuals
to protect from infection and severe outcomes of COVID-19. During the recent
Omicron surge
, those boosted were 21-times less likely to die from COVID-19 than those who were unvaccinated and seven times less likely to be hospitalized. The CDC continues to recommend that all eligible adults, adolescents, and children ages five and older be up to date on their COVID-19 vaccines, including getting a booster when eligible.
The CDC has updated the
recommendations
to allow all adults age 50 years and older or certain
immunocompromised
individuals to receive an additional booster of an mRNA vaccine at least four months after the initial booster dose. In addition, adults who received a primary vaccine and booster of Johnson & Johnson's Janssen COVID-19 vaccine at least four months ago may now receive a second booster dose using an mRNA COVID-19 vaccine.
Additional Resources
CDC Statement Regarding Exhaustion of Funding for Uninsured Program and Coverage Assistance Fund
The Health Resources & Services Administration (HRSA) has announced that it will stop accepting claims for reimbursement of costs associated with administering COVID-19 vaccines to uninsured and underinsured individuals as of April 5 due to the lack of supplemental funding from Congress. The Centers for Disease Control and Prevention (CDC) strongly encourages providers to stay in the CDC COVID-19 Vaccination Program and expects participating providers to continue administering these lifesaving vaccines at no cost to patients to ensure equitable access for all individuals. Should the CDC become aware of a provider engaging in any of the following, it will consider taking any and all appropriate measures, including the possibility of rescinding the CDC provider agreement.
Administering COVID-19 vaccines at any out-of-pocket cost to the recipient;

Denying anyone vaccination or differentially reducing appointment access based on the vaccine recipient's coverage status or network status;

Charging an office visit or other fee if COVID-19 vaccination is the sole medical service provided;

Requiring additional medical services to receive COVID-19 vaccination; or,

Seeking any reimbursement, including through balance billing, from the vaccine recipient.
See the CDC COVID-19 Vaccination Program Provider Requirements and Support
web page
for further information.
Inaugural
South Dakota Community Health Worker Conference
April 28
The Community Health Worker Collaborative of South Dakota (CHWSD) is excited to host the inaugural South Dakota Community Health Worker Conference. This conference is an opportunity for community health workers (CHWs), CHW allies, and CHW supporters to come together for a day of networking and education and learn more about CHW initiatives and workforce development in South Dakota.
This conference will be held in person at the Hilton Garden Inn in Sioux Falls on Thursday, April 28. This year, it is offered at no cost due to grant funding made available through the South Dakota Department of Health, Office of Disease Prevention and Health Promotion. For agenda, registration, and lodging information, click
here
.
National Infant Immunization Week April 24-30: Urge Patients' Parents to Stay on Track with Well Visits and Vaccines
National Infant Immunization Week (NIIW) is April 24 – 30. Each year, NIIW highlights the positive impact of vaccination on the lives of infants and children — and this year, it's a priority to ensure that families stay on track for routine checkups and vaccinations following disruptions from COVID-19.

On-time vaccination is critical to help protect against potentially life-threatening diseases. According to the Centers for Disease Control and Prevention (CDC) research, parents consistently identify health care professionals as their most trusted source of health and immunization information. Research also shows that many parents make vaccine decisions before their babies are even born.
During NIIW, CHAD encourages you to remind parents and pregnant people about the importance of on-time infant and childhood immunization. Please reach out to any patients who may have missed or delayed their routine well-child visits and vaccinations — and encourage them to schedule these important appointments.
Additional resources to assist in your vaccination conversations are below:
Now Available - CHAMPS Wellbeing Bulletin
The CHAMPS

Wellbeing Bulletin

is a new communication designed to share uplifting and informative articles that support wellbeing, including resiliency, wellness, and mindfulness, and information on current and upcoming events. CHAMPS will distribute this resource quarterly, and an archive of the

spring 2022

inaugural edition is now available on the

CHAMPS Wellbeing Bulletin

web page, including a link for new subscribers.
Great Plains Health Data Network Conducts Strategic Planning
Last week, the Great Plains Health Data Network (GPHDN) held an educational summit and strategic planning event in Rapid City, SD. The meetings featured national presenters who shared their health data success stories, lessons learned, and ways health centers can work together through a health center-controlled network (HCCN) to optimize health technology and data. During the summit, speakers outlined the challenges and opportunities of virtual care and led a workshop discussion on how virtual care might align with health center strategic goals. The afternoon focused on capturing data and analyzing what the GPHDN has accomplished and where it might consider heading next. This event culminated with the strategic planning facilitated by Coleman Associates and will result in a new three-year plan for the network.
Find presentations from both the summit and the strategic planning session
here
.

GPHDN staff will draft the strategic plan goals, review them, and approve them with the GP11 leadership committee during the May meeting. Special thanks to Mountain Pacific Quality Health and Azara Healthcare for sponsoring, and thank you to all who were able to join in this event!
Defending Against Common Cyberattacks
The U.S. Department of Health and Human Services' (HHS) Office for Civil Rights (OCR) published its Quarter One 2022 Cybersecurity
newsletter
with the topic of "defending against common cyberattacks." The newsletter reports that cyberattacks of unsecured electronic protected health information (ePHI) affecting 500 or more individuals have increased by 45% from 2019 to 2020. Cybercriminals will only continue to escalate their attacks because they are finding success, so cybersecurity has to continue to be a daily priority for health centers. To assist, the newsletter details preventive steps health centers can take "to protect against some of the more common, and often successful, cyber-attacks techniques." The three techniques covered are phishing, exploiting known vulnerabilities, and weak cybersecurity practices.
Telehealth Reminders for
BCBSND and Medicaid Expansion Providers

Blue Cross Blue Shield of North Dakota (BCBSND) reminds providers who perform telehealth services that the following information is necessary to include in their medical dictation when these services are provided. Review the
Telehealth Services Reimbursement Policy
.
Documentation supporting medical necessity and appropriateness for the health service visit;

Location of the individual and location of the provider;

Mode of telehealth services provided, such as asynchronous (store-and-forward), synchronous (real-time);

If synchronous telehealth was provided, the provider must identify the originating facility name (the site that facilitated the telehealth service); and,

If digital online synchronous telehealth was provided, the provider must specify that the visit was a digital online visit.
BCBSND requires the locations of the patient and provider during the telehealth service to be recorded in the documentation. To ensure provider safety, should the provider be working from their home office, BCBSND does not require the provider's home address to be included in the patient's medical record, though a notation is required to verify the place where the service was performed.
FHIR 101: Opportunities to Improve Interoperability across Health Centers

Fast Healthcare Interoperability Resources (FHIR) is an HL7® standard for electronic health care data exchange. This next-generation exchange architecture is advancing interoperability in health care. FHIR provides a standard way to express and share information across health centers, providers, and related organizations independent of how local EHRs display or store data. For UDS+ and other information exchange needs, all health centers, PCAs, and HCCNs will want to be familiar with the basics of the HL7 FHIR standard. This session will discuss what FHIR is, what it basically does, how it impacts the EHR, and what it might mean for health centers patients.
Tuesday, April 26
1:00 pm CT/ 12:00 pm MT
Register
here
Azara 2022 Annual User Conference May 2-4
The Azara 2022 Annual User Conference will return to Boston this spring at the Boston Park Plaza located in Boston's historic Back Bay. Azara DRVS users from community health centers, physician practices, primary care associations, health center-controlled networks, and clinically integrated networks are invited to join the event, which includes a day of pre-conference workshops and two days of general sessions, breakouts, and networking events.
This growing national conference, now back in person, is the ideal opportunity for Azara DRVS users to meet, share best practices and ideas, further their knowledge and skills, and collaborate with the Azara team. Sessions cover topics appropriate for all levels of DRVS users—new to advanced—and aim to broaden and deepen the use of solutions. Click
here
for more information.
Telehealth Everywhere Conference May 24-25
The Great Plains Telehealth Resource & Assistance Center
(
gpTRAC
)

will be hosting its annual in-person conference, Telehealth Everywhere, May 24-25 at the Radisson Blu-Mall of America in Bloomington, MN. This conference will feature excellent keynote presenters and breakout sessions. The opening keynote speaker, George Demiris, Ph.D., UPenn, will discuss the need for inclusive design in telehealth and other digital health tools. He will also present various case studies that highlight ways to facilitate ongoing and effective patient engagement. Attendees will again have the opportunity to discuss emerging telehealth information with their peers and colleagues. For more information and to register, visit
here
.
Deadline Extended for NACHC's 2022 Design Sprint Program
With support from the Robert Wood Johnson Foundation, the National Association of Community Health Centers (NACHC) is launching the 2022 Design Sprint program to better understand:
how health centers serve as community, state, and national leaders to elevate community and patient voice; and,

how health centers fueled by social drivers of health (SDOH) data, community voice, and committed leadership, can develop and/or strengthen relationships across sectors to address structural racism and health equity.
Learn more
about the 2022 Design Sprint program, focused on aligning health centers and their cross-sector partners to advance health equity and antiracism efforts
.
At least three to five cross-sector teams will be selected to participate in a 7-month-long design sprint process, including peer-to-peer learning, sharing of promising practices, and training and technical assistance. Each sprint will focus on building partnerships, recommendations, and stakeholder-led strategies that best meet the needs of their patients and communities from the individual and family level to the payment and policy level.
We are seeking a self-motivated, detail-oriented individual interested in supporting a range of projects. This full-time administrative and program coordinator role is flexible with a Sioux Falls-area preference but open to other locations within North Dakota or South Dakota.
Under the director of finance & operations, the administrative and program coordinator is responsible for CHAD's administrative, finance, and communication support and grants and programs housed within CHAD. This position enhances CHAD's ability to support membership to serve low-income, geographically isolated, minority, homeless, and migrant populations in North Dakota and South Dakota. For the full job description and to apply, please click
here
.
Understanding the Medicaid Health Homes Program, CHW Reimbursement Program & Their Integration
This webinar will provide a comprehensive overview of the South Dakota Medicaid Health Homes (MHH) program and community health worker (CHW) reimbursement and highlight their similarities and differences. Ben Tiensvold of the CHW Collaborative of South Dakota will provide an introduction, followed by our main speakers, Ashley Lauing and Kathi Mueller from the South Dakota Department of Social Services, Division of Medical Services. Ashley will lead the discussion on CHW reimbursement, and Kathi will speak on the MHH program. Together they will lead a scenario-based discussion on how these two programs can interact.
Friday, April 22
10:00 am CT/ 9:00 am MT
Register
here
.
Dentistry as Primary Care TeleECHO




The North Dakota Department of Health Oral Health Program has partnered with the University of North Dakota and Project ECHO™ to offer free, one-hour, live, virtual trainings carrying continuing education credit for dental team members and other health professionals. These sessions provide training and case presentations on dozens of topics specific to dental practice in North Dakota.

Topics were identified by a team of oral health professionals from around North Dakota

,

including private practice, community health centers, and IHS dental clinics

,

and include DAs, DHs, public health dentistry, and DDS and DMDs.

For more information on Project ECHO ™

,

connect with Julie Reiten, Project ECHO

c

oordinator

,

at

Julie.a.reiten@und.edu

,

or visit the

Dentistry as Primary Care TeleECHO™ webpage

.




Second and fourth Wednesday of each month, through May; once a month over the summer  
PRAPARE and Addressing SDoH: Integration Is Not as Hard as You Think
Interested in learning about how health centers can improve primary care by collecting standardized data on the social drivers of health (SDoH)? Join us to learn more about the Protocol for Responding to and Assessing Patients' Assets, Risks and Experiences (PRAPARE), a standardized SDoH needs assessment tool developed by the National Association of Community Health Centers (NACHC), the Association of Asian Pacific Community Health Organizations (AAPCHO), and the Oregon Primary Care Association. Our featured speakers will also be discussing an innovative approach from a health center that implemented PRAPARE to accelerate care improvement, population health, and health equity.
Wednesday, April 27
1:00 pm CT/ 12:00 pm MT
Register

here

.
CHAMPS 2022 Resiliency Collaborative
Registration for the

2022 Resiliency Collaborative

is officially open! This free, online facilitated peer group, hosted in partnership with the Rocky Mountain Public Health Training Center (RM-PHTC), is open to all health center staff. Each session will be highly activity-focused, incorporating the practice of mindfulness techniques, meditation, practical body awareness exercises, and more, and also allow attendees to share didactic information.
This collaborative will occur on the first Friday of each month from May through September 2022 at 1:00 pm CT/ 12:00 pm MT. To learn more and register, visit the CHAMPS

events and trainings

webpage.

 
North Dakota Oral Health Coalition Meeting May 6
During this in-person meeting, the NDOH coalition will collaborate on strategies to implement the goals outlined in the North Dakota oral health action plan that was developed during the state engagement meeting in May 2021. The group will work toward increased availability, accessibility, and utilization of oral health services for underserved populations and communities throughout the state. The deadline to register is April 14. Click
here
for the agenda.
Friday, May 6
10:00 am – 2:00 pm CT/ 9:00 am – 1:00 pm MT
RSVP
here
.
Building Opportunities to Provide Healthy Food Options
When money is tight, the trip to the grocery store becomes a scavenger hunt for the cheapest options. Eating well can be a key element in combating chronic disease. Community Health Center of the Black Hills and Feeding South Dakota will explain their efforts toward providing healthy food options for patients in need.
Tuesday, May 10
12:00 pm CT/ 11:00 am MT
Register here

.
HRSA's National Telehealth Conference
The Health Resources and Services Administration (HRSA) and

Telehealth.HHS.gov

are pleased to host a National Telehealth Conference bringing together public and private sector leaders to discuss telehealth best practices and lessons learned during the COVID-19 pandemic. Over two days, experts in the field will examine the evolution of telehealth as part of the standard of care and the importance of its continued integration in an overall, integrated care delivery model. Participants will hear from HHS leadership, HRSA Administrator Carole Johnson, and telehealth experts on various hot topics.
Monday, May 16 | 9:00 am – 3:00 pm CT/ 8:00 am – 2:00 pm MT
Tuesday, May 17 | 9:00 am – 11:30 am CT/ 8:00 am – 10:30 am MT
Register

here

.
CHAD Network Team Meetings
Tuesday, April 26 at 1:00 pm CT/ 12:00 pm MT – Outreach & Enrollment Network Team
Tuesday, April 26 at 3:00 pm CT/ 2:00 pm MT – CFO & Finance Manager Roundtable
Tuesday, May 3 at 12:00 pm CT/ 11:00 am MT – Behavioral Health Work Group
Thursday, May 5 at 12:00 pm CT/ 11:00 am MT – Clinical Quality Network Team
Tuesday, May 10 at 2:00 pm CT/ 1:00 pm MT – Communications and Marketing Network Team
Thursday, May 12 at 9:30 am CT/ 8:30 am MT – Emergency Preparedness Network Team
This account is supported by the Health Resources and Services Administration (HRSA) of the U.S. Department of Health and Human Services (HHS) as part of an award totaling $1,499,709.00 with 0 percent financed with non-governmental sources. The contents are those of the author(s) and do not necessarily represent the official views of, nor an endorsement, by HRSA, HHS, or the U.S. Government. For more information, please visit HRSA.gov.